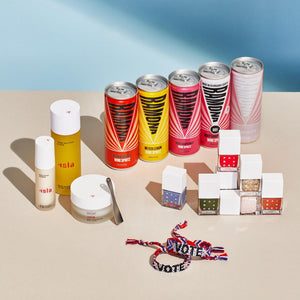 The Happy Hour Newsletter
Posted by Hello RAMONA on
Can't see this email? {% web_view %}
Hello Everyone,

Thank you for your incredible response to the Opening Up podcast! Don't miss recent episodes with NBA Champion & Olympic Gold Medalist Kevin Love, Sommelier Sarah Thomas, and Subway Book Review creator Uli Beutter Cohen. If you've enjoyed listening, please consider reviewing and subscribing.
We're 19 days from the election and fired up to VOTE. There's still time to register for our giveaway (details below), and if you're near Philadelphia please stop by our Boozy Bake Sale this Saturday to benefit vote.org.
Lastly we have BIG NEWS coming in a couple of weeks. Stay tuned.
Till then,
Jordan
Founder, CEO
PS you can stock up online while staying in, here.
We're teaming up with Paintbox, Dannijo, and Isla Beauty to remind you all to get out (or stay in) and VOTE! Enter on Instagram by following each brand's account, liking RAMONA's post and tagging your friends to remind them to vote!
No longer want to receive these emails?